Brief Overview   
The Civil Services Examination (CSE) is a nationwide competitive examination in India conducted by the Union Public Service Commission for recruitment to various Civil Services of the Government of India, including the Indian Administrative Service (IAS), Indian Foreign Service (IFS), and Indian Police Service (IPS). Also simply referred to as the UPSC examination,[2] it is conducted in three phases – a preliminary examination consisting of two objective-type papers (General Studies Paper I and General Studies Paper II also popularly known as Civil Service Aptitude Test or CSAT), and a main examination consisting of nine papers of conventional (essay) type, in which two papers are qualifying and only marks of seven are counted followed by a personality test (interview).
Eligibility Criteria
| 1. Nationality: | Citizen of India. |
| --- | --- |
| | (Subjects of Nepal, Bhutan & others are eligible for posts other than IAS, IPS) |
| | For details refer notification) |
| 2. Age limit: | |
| GENERAL: | 21 to 32 years. (Age is calculated as on 1st August of the year of the examination) |
| | |
| O.B.C.: | 3 years relaxation (21 to 35 years) |
| (Non-creamy Layer) | |
| | |
| SC/ST: | 5 years relaxation (21 to 37 years) |
| | 5 years relaxation |
| Ex-serviceman: | (For conditions refer notification) |
Exam Pattern
(1) Preliminary
The Preliminary Exam consists of two objective type papers (multiple-choice questions) for a total of 400 marks. Each paper has 200 marks each and two hours allotted. However, blind candidates would be provided an extra 20 minutes for each paper.
Since this is a qualifying exam, the marks obtained in this test are not counted for determining the final order of merit of a candidate if he qualifies for the main exam as well.
There will be negative marking (of one-third marks for that answer) for wrong answers marked by a candidate in the objective type question papers. Only a black ballpoint pen may be used for both writing and marking answers in the OMR sheet (answer sheet). Pens of any other color, pencils or ink pens are prohibited.
(2) Main (Written)
The main examination will have the 2 qualifying papers and 7 papers to be counted for merit. All the 9 papers will have essay-type questions.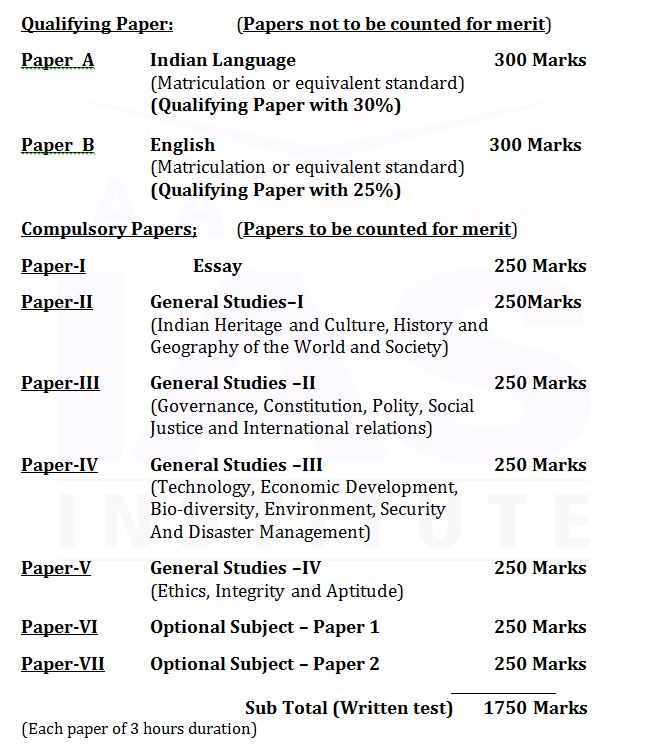 Candidates may choose any one of the optional subjects from amongst the list given below: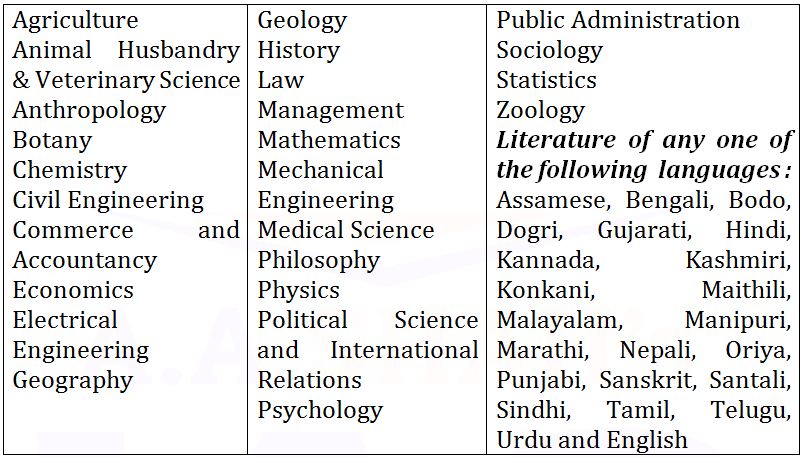 (3) Main (Interview)
Candidates, who obtain such minimum qualifying marks in the written part of the Main Examination as may be fixed by the Commission at their discretion, shall be summoned by them for interview for a Personality Test.
Candidates who are selected in the Mains Written Examination will be eligible to appear before the Interview Board at New Delhi. It is usually held by the UPSC in February / March.
The interview will carry 275 marks (with no minimum qualifying marks). Marks thus obtained by the candidates in the Mains Examination (written part as well as interview) would determine their final ranking. (Ranking is based on score out of 2025 Marks). Candidates will be allotted to the various services keeping in view their ranks in the Examination and the preferences expressed by them for the various services and posts.
The number of candidates to be summoned for interview will be about three times the number of vacancies to be filled.
The candidate will be interviewed by a Board who will have before them a record of his career. The candidates will be asked questions on matters of general interest.
The object of the interview is to assess the personal suitability of the candidate for a career in public service by a Board of competent and unbiased observers.
The test is intended to judge the mental caliber of a candidate. In broad terms this is really an assessment of not only his intellectual qualities but also social traits and his interest in current affairs.
Some of the qualities to be judged are mental alertness, critical powers of assimilation, clear and logical exposition, balance of judgment, variety and depth of interest, ability for social cohesion and leadership, intellectual and moral integrity.
The technique of the interview is not that of a strict cross‐examination but of a natural, though directed and purposive conversation which is intended to reveal the mental qualities of the candidate.
The interview test is not intended to be a test either of the specialized or general knowledge of the candidates which has been already tested through their written papers. Candidates are expected to have taken an intelligent interest not only in their special subjects of academic study but also in the events which are happening around them both within and outside their own State or Country as well as in modern currents of thought and in new discoveries which should rouse the curiosity of well-educated youth
 Important Dates
Application Procedure
Steps to Apply for IAS Prelims Exam 
Steps followed to fill the IAS online form are given below:
Step 1: Registration Part I
Visit the official website and click on the link to apply for UPSC Civil Services
Enter the details Name, Gender, Category, Nationality and other personal details.
Click on Submit button
Step 2: Payment of Application Fee
Choose the payment method between online or offline mode
Offline mode includes downloading the Pay-in-slip provided on the page and paying in cash at the nearest branch of State Bank of India during working hours of the bank
Online mode includes payment through debit/credit card or net banking
Note: This step is not applicable for candidates who are exempted from paying the fee.
Step 3: Registration Part II
Post receipt of the fee payment, fill the other details of the IAS Application form
Enter the choice of IAS Exam Center
Step 4: Uploading the Images
Click on the link or blank space provided to upload the photograph
Check if the image is opened correctly and clearly
Repeat the same steps to upload the image of the signature
Click on "I Agree" to approve the declaration and submit the complete IAS Online Form.
For details refer Notification:
Syllabus
 Preliminary Examination
General Studies Paper-I (GS)
General Studies Paper-II (CSAT)
• Current events of national and international importance.
• History of India and Indian national movement.
• Indian and World Geography- physical, social, economic geography of India and the world.
• Indian Polity and governance – constitution, political system, Panchayatraj, public policy, Rights issues, etc.
• Economic and social development – sustainable development, poverty, inclusion, demographics, social sector initiatives etc.
• General issues on environmental ecology, bio-diversity and climate change-that do not require subject specialization.
• General science.

(Qualifying Paper with 33%)
• Comprehension.
• Interpersonal skills including communication skills.
• Logical reasoning and analytical ability.
• Decision making and problem solving.
• General mental ability
• Basic numeracy (numbers and their relations, orders of magnitude etc. (Class X level), Data interpretation (charts, graphs, tables, data sufficiency etc. –Class X level).
• English language comprehension skills (Class X level).

For details refer Notification:
 Preparation Resources
NCERT and other basic recommended Books 
Economic Survey
Monthly Magazines like Kurukshetra, Yojana, A A Shah Current Affairs
Join Test Series for Prelims and Mains
Join Trusted Institute for Guidance and Coaching