Eligibility:
Student studying in in Std. V in Academic Year 2019-20 in Government recognised School (aided / un-aided /  / self-financed)
Students of State Board, CBSE, ICSE [Students of CBSE & ICSE won't be eligible for scholarship, however certificate will be issued to the successful students]
Age of student as on 1st June 2019 must not be more than 11 years [However, students above the age limit will be allowed to appear for the exam, but won't be eligible for scholarship]
Either student or parent having domicile of State of Maharashtra for 15 years.
Examination Pattern:
Medium of Exam:
Exam is conducted in 8 (eight) Mediums :
Marathi, Urdu, Hindi, Gujarati, English, Sindhi, Telgu, Kannad
For students who have chosen Semi-English as their medium, following 7 (seven) options are available:
Marathi+English, Urdu+English, Hindi+English, Gujarati+English, Sindhi+English, Telgu+English, Kannad+English
2. Mode of Exam:
MCQ (Objective type) questions in paper-pen (offline) mode with OMR answer sheet.
3. There shall be four options, out of which only one will be correct.
4. For PSS in both papers for about 20% questions, two out of the four options will be correct.
Students are required to marked those both correct options as their answer.
5. There shall not be negative marking for incorrect answer.
6. For students of Semi-English medium, the questions for Mathematics in Paper-I and for Intelligence Test in Paper-II shall be in both language i.e. in original medium and English. Hence, students are advised to select appropriate medium while submitting the online application form.
7. The details about number of papers, subjects, questions, difficulty level, marks and time allotted are mentioned hereinbelow in tabular form: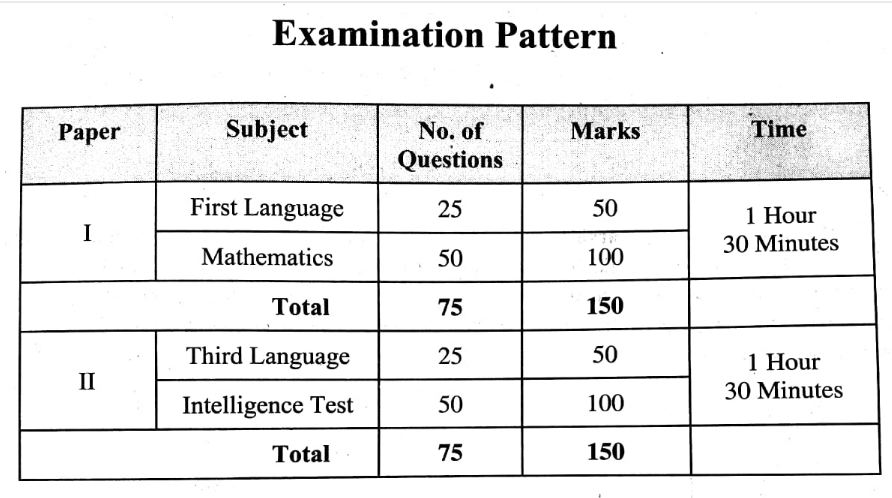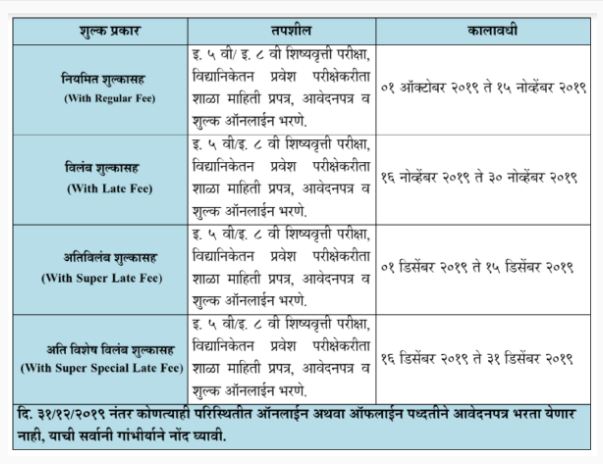 Exam application forms are to be submitted online by the respective schools.
Forms submitted offline shall not be accepted.
Forms submitted by individual student, either online or offline shall not be accepted.
Syllabus:
As stated hereinabove, there are two Papers;
Paper-I has two subjects; First Language and Intelligence Test
Paper-II has two subjects; Third Language and Mathematics
       Note:
For English Medium students – First Language is English & Third Language is Marathi
For Marathi Medium students – First Language is Marathi & Third Language is English