Students of Std. IX, appearing for SSC in March 2022:
Get FREE SSC classes (live, interactive, virtual classes) from 9 January 2021 till 10 April 2021 every Saturday 5 pm to 6 pm for all subjects – Maths, Science, Social Science, Marathi, Hindi, English.
Free Online Tests: every Sunday @ 11 am
All programs & courses designed & conducted by well known academician Bilquees Khatri Madam
Last date of registration: 7 January 2021 (limited seats)
Submit Registration Form at https://urlzs.com/iS3Rs
Free Recorded classes are available:
For science 1-
https://youtube.com/playlist?list=PLvDB53LdC-MwITyYzZwDrSEW04SN7FAx-
For Science 2
https://youtube.com/playlist?list=PLvDB53LdC-MyXwzztc3Nv_Oz25iszl31C
For Maths 1
https://youtube.com/playlist?list=PLvDB53LdC-MxQTR9qBhdS9IZ4bkEauSxX
For Maths 2
https://youtube.com/playlist?list=PLvDB53LdC-MwldyfGNNlTH5ZN7ygdz7n9
For more recorded classes visit:
https://www.youtube.com/c/YoungIAS
Register for Free Mobile Learning App: https://play.google.com/store/apps/details?id=com.youngias.aashah
Full Regular Courses starting from 12 April 2021.
For details & full courses: contact A A Shah's Young IAS 9004078746
Introduction:
The Maharashtra State Board of Secondary & Higher Secondary Education, Pune (MSBSHSE) is an autonomus boday established under the provisions of The Maharashtra Act No. 41 of 1965. MSBSHSE conducts the HSC (for Class 12) and SSC (for Class 10) examinations in the State of Maharashtra. There ae nine divisional boards, namely Pune, Mumbai, Aurangabad, Nasik, Kolhapur, Amravati, Latur, Nagpur and Ratnagiri. MSBSHSE conducts examinations twice a year and the number of students appearing for the main examination is around 14 lacs for HSC and 17 lacs for SSC. There are abour 21000 schools  for SSC and 7000 for HSC higher secondary schools / junior colleges in the entire state.
Useful & relevant information, latest updates and notifications:
For useful and relevant information, latest updates and notifications as well as for free video lectures, tests, study materials download A A Shah Learning App enter your details, select Course "Tuition" and mention in the message box "Class 10 (SSC)"
The Courses available are;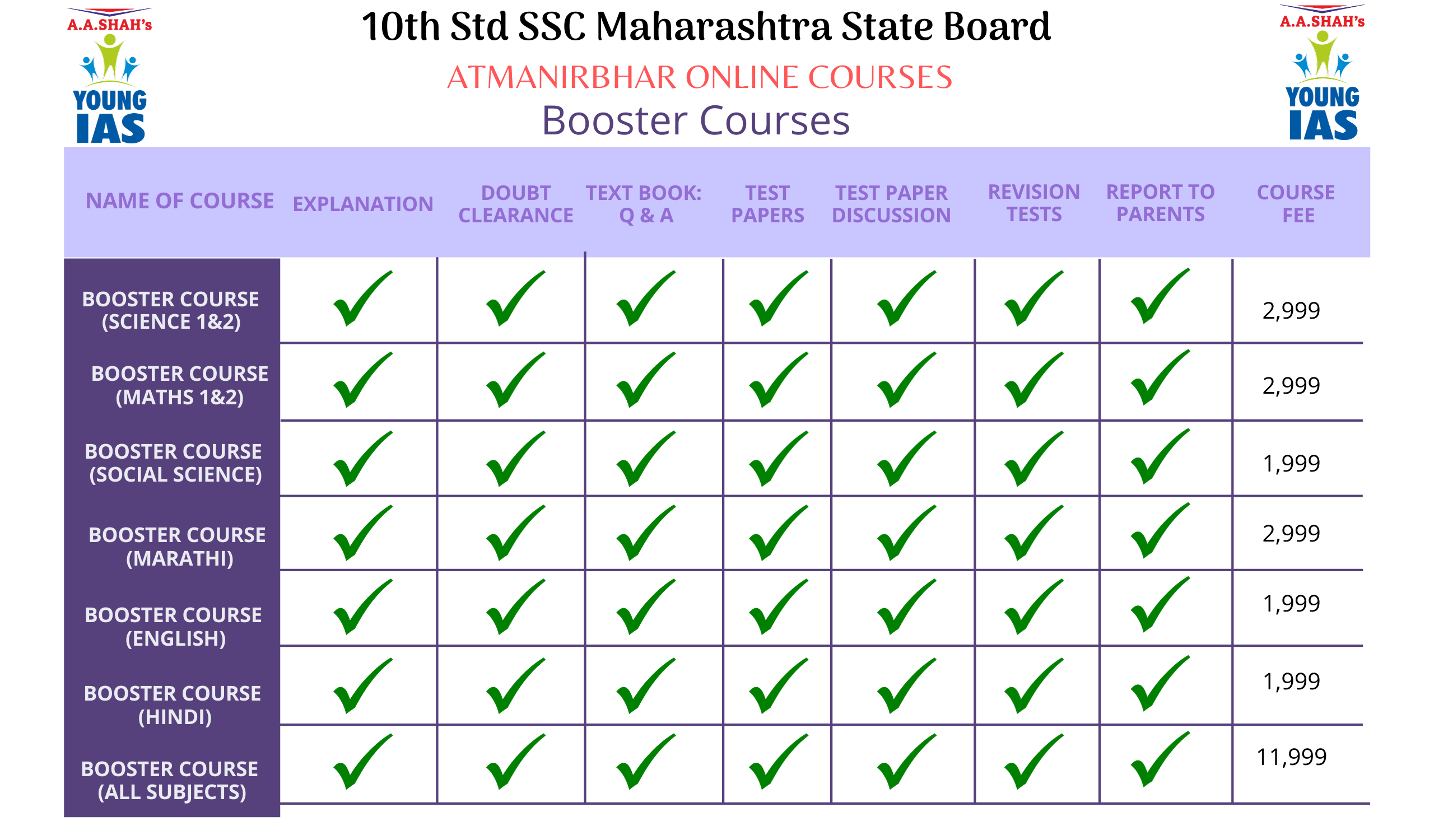 To enroll for the courses, make payment online through G-Pay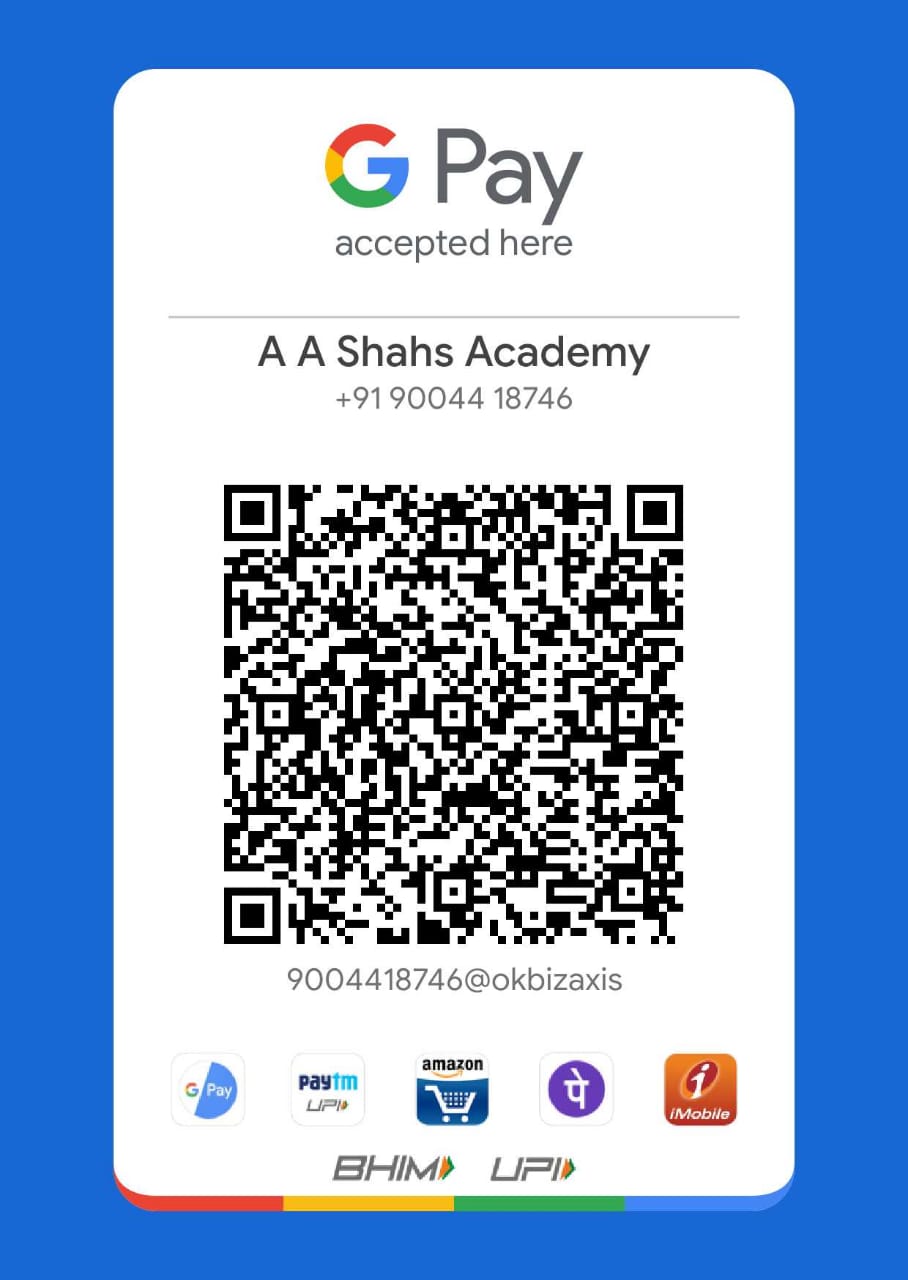 Books (PDF)
Maharashtra SSC Board 10th Class Text Books (English Medium) For Free Download PDF click the subject;
Mock Papers
English Science & Technology Part 1 Set 1
English Science & Technology Part 1 Set 1 (Ans.)
English Science & Technology Part 1 Set 2
English Science & Technology Part 1 Set 2 (Ans.)
English Science & Technology Part 1 Set 3
English Science & Technology Part 1 Set 3 (Ans.)
English Science & Technology Part 2 Set 1
English Science & Technology Part 2 Set 1 (Ans.)
English Science & Technology Part 2 Set 2
English Science & Technology Part 2 Set 2 (Ans.)
English Science & Technology Part 2 Set 3
English Science & Technology Part 2 Set 3 (Ans.)
Previous Year Question Papers (2019)
English
Previous Year Question Papers (2020)
English
Hindi
Marathi
Science 2
Mathematics 1
Mathematics 2
Geography
History
Free Video Lectures