Countering America's Adversaries Through Sanctions Act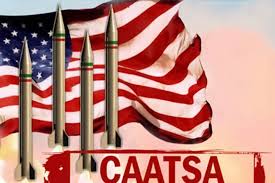 The Countering America's Adversaries Through Sanctions Act, CAATSA, is a United States federal law that imposed sanctions on Iran, North Korea, and Russia. On August 2, 2017, President Donald Trump signed it into law.
The sanctions aimed to punish Moscow for its meddling in Ukraine, Syria, the 2016 presidential elections, and most recently, Russia's alleged involvement in the poisoning of a former intelligence officer in the United Kingdom. Sanctions were imposed on Iran after America withdrew from Joint Comprehensive Plan of Action, known commonly as the Iran nuclear deal or Iran deal.
It also imposes additional measures to reinforce sanctions imposed by the United Nations against North Korea under U.N. Security Council Resolution 2371.
PROVISIONS –
Countering Iran's Destabilizing Activities Act of 2017
Countering Russian Influence in Europe and Eurasia Act of 2017
Korean Interdiction and Modernization of Sanctions Act
SANCTIONS DESCRIBED–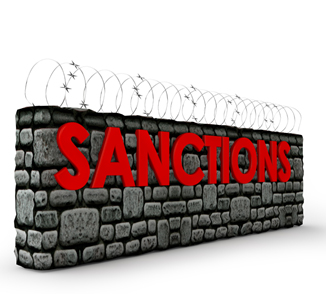 ---
1) EXPORT-IMPORT BANK ASSISTANCE FOR EXPORTS TO SANCTIONED PERSONS.—The President may direct the Export-Import Bank of the United States not to give approval to the issuance of any guarantee, insurance, extension of credit, or participation in the extension of credit in connection with the export of any goods or services to the sanctioned person.
(2) EXPORT SANCTION.—The President may order the United States Government not to issue any specific license and not to grant any other specific permission or authority to export any goods or technology to the sanctioned person under—
(A) The Export Administration Act of 1979 (50 U.S.C. 4601 et seq.) (as continued in effect pursuant to the International Emergency Economic Powers Act (50 U.S.C. 1701 et seq.));
(B) The Arms Export Control Act (22 U.S.C. 2751 et seq.);
(C) The Atomic Energy Act of 1954 (42 U.S.C. 2011 et seq.); or
(D) Any other statute that requires the prior review and approval of the United States Government as a condition for the export or re-export of goods or services.
(3) LOANS FROM UNITED STATES FINANCIAL INSTITUTIONS.—The President may prohibit any United States financial institution from making loans or providing credits to the sanctioned person totaling more than $10,000,000 in any 12-month period unless the person is engaged in activities to relieve human suffering and the loans or credits are provided for such activities.
(4) LOANS FROM INTERNATIONAL FINANCIAL INSTITUTIONS.—The President may direct the United States executive director to each international financial institution to use the voice and vote of the United States to oppose any loan from the international financial institution that would benefit the sanctioned person.
(5) PROHIBITIONS ON FINANCIAL INSTITUTIONS.—The following prohibitions may be imposed against the sanctioned person if that person is a financial institution:
(A) PROHIBITION ON DESIGNATION AS PRIMARY DEALER.—Neither the Board of Governors of the Federal Reserve System nor the Federal Reserve Bank of New York may designate, or permit the continuation of any prior designation of, the financial institution as a primary dealer in United States Government debt instruments.
(B) PROHIBITION ON SERVICE AS A REPOSITORY OF GOVERNMENT FUNDS.—The financial institution may not serve as agent of the United States Government or serve as repository for United States Government funds. The imposition of either sanction under subparagraph (A) or (B) shall be treated as 1 sanction for purposes of subsection (b), and the imposition of both such sanctions shall be treated as 2 sanctions for purposes of subsection (b).
(6) PROCUREMENT SANCTION.—The United States Government may not procure, or enter into any contract for the procurement of, any goods or services from the sanctioned person.
(7) FOREIGN EXCHANGE.—The President may, pursuant to such regulations as the President may prescribe, prohibit any transactions in foreign exchange that are subject to the jurisdiction of the United States and in which the sanctioned person has any interest.
(8) BANKING TRANSACTIONS.—The President may, pursuant to such regulations as the President may prescribe, prohibit any transfers of credit or payments between financial institutions or by, through, or to any financial institution, to the extent that such transfers or payments are subject to the jurisdiction of the United States and involve any interest of the sanctioned person.
(9) PROPERTY TRANSACTIONS.—The President may, pursuant to such regulations as the President may prescribe, prohibit any person from—
(A) acquiring, holding, withholding, using, transferring, withdrawing, transporting, importing, or exporting any property that is subject to the jurisdiction of the United States and with respect to which the sanctioned person has any interest;
(B) dealing in or exercising any right, power, or privilege with respect to such property; or
(C) conducting any transaction involving such property.
(10) BAN ON INVESTMENT IN EQUITY OR DEBT OF SANCTIONED PERSON.—The President may, pursuant to such regulations or guidelines as the President may prescribe, prohibit any United States per son from investing in or purchasing significant amounts of equity or debt instruments of the sanctioned person.
(11) EXCLUSION OF CORPORATE OFFICERS.— The President may direct the Secretary of State to deny a visa to, and the Secretary of Homeland Security to exclude from the United States, any alien that the President determines is a corporate officer or principal of, or a shareholder with a controlling interest in, the sanctioned person.
(12) SANCTIONS ON PRINCIPAL EXECUTIVE OFFICERS.—The President may impose on the principal executive officer or officers of the sanctioned person, or on persons performing similar functions and with similar authorities as such officer or officers, any of the sanctions under this subsection.
---
KEY ASPECTS-
Iran
CAATSA expands US sanctions targeting Iran's ballistic missile program, weapons proliferation activities, and human rights abuses; enhances the legal basis for existing sanctions targeting Iran's Islamic Revolutionary Guard Corps (IRGC); and requires certain periodic reviews and reports that lay the groundwork for further sanctions in the future. CAATSA also limits the ability of the president to waive or suspend the application of certain sanctions. These measures underscore the critical importance of identifying and addressing US sanctions with respect to any commercial interaction involving Iran.
Russia
CAATSA significantly expands the scope and applicability of US sanctions to additional sectors of the Russian economy, including the financial services, debt capital markets, energy, transportation, telecommunications, information technology, defense and aerospace. As such, US persons2 contemplating or engaging in transactions in these sectors, or with counterparties in these sectors, will need to navigate a significantly more restrictive sanctions landscape. Further, several of the new sanctions authorized under the Act have extra-territorial reach, as they target foreign persons involved in certain transactions involving Russia. For instance, CAATSA authorizes OFAC to impose sanctions on a foreign person as a "sanctions evader" for materially violating or causing a violation of US sanctions against Russia, or for facilitating certain transactions for a sanctioned person or a close relative. OFAC can also sanction persons for investing in or privatizing Russian state-owned assets in a way that "unjustly benefits" Russian officials or their close associates and family members. Finally, many of the "may impose" sanctions from the 2014 Ukraine Freedom Support Act, which President Obama indicated at the time he did not intend to impose, have been amended to "shall impose" sanctions. How OFAC will interpret its mandate under this new statutory authority remains to be seen, but it warrants significant attention and caution.
Accordingly, both US and non-US persons, including foreign financial institutions, should consider reviewing planned and existing activities and investments in sectors of the Russian economy that are targeted by the new sanctions, and those involving Russian state-owned enterprises and other assets.
North Korea
Similar to the Russia sanctions, the North Korea sanctions also have extra-territorial reach involving several different industries such as precious metals, aviation, textile, energy and agriculture. Accordingly, US and non-US companies transacting in any of the affected sectors are now within the purview of secondary sanctions against North Korea and face additional due diligence obligations.
---
SECTORS AFFECTED-
The new sanctions are likely to have the most significant impacts on the following sectors:
Energy
CAATSA imposes new restrictions on investments involving Russian oil companies in projects globally, and new diligence requirements with respect to sale and purchase of oil and petrochemical products of North Korean origin.
Insurance
The new sanctions require substantially enhanced diligence with respect to specific ports and vessels that will likely impact contracts of insurance in a wide range of applications.
Financial institutions
New sanctions on Russia target debt and equity investments in more than 200 Russian entities and expand the universe of targeted oil and gas projects subject to investment restriction, while the North Korea sanctions impose enhanced diligence requirements for correspondent banking relationships.
Manufacturing
Export restrictions on US technology for projects that involve Russian oil companies are enhanced and expanded beyond those already in place under Directive 4.
---
IMPACTS ON INDIA
CAATSA is likely to affect India's arms procurement from Russia in a number of ways. First, India's planned procurement from Russia, particularly the S-400 air defence system, Project 1135.6 frigates and Ka226T helicopters, have come under the immediate scanner of US authorities, as they are mandated to deter exports of key Russian defence entities. In all likelihood, US authorities will try to influence their Indian counterparts to ignore the Russian platforms, though it is entirely up to New Delhi to make its own judgement. Second, CAATSA is likely to affect all the joint ventures (JVs) – existing or planned — between Indian and Russian defence companies. Some of the existing JVs that may come under the scanner are: Indo Russian Aviation Ltd, Multi-Role Transport Aircraft Ltd and Brahmos Aerospace. Third, the Act will also affect India's purchase of spare parts, components, raw materials and other assistance for which Indian entities are dependent on Russia for domestic licence manufacturing and maintenance of existing equipment.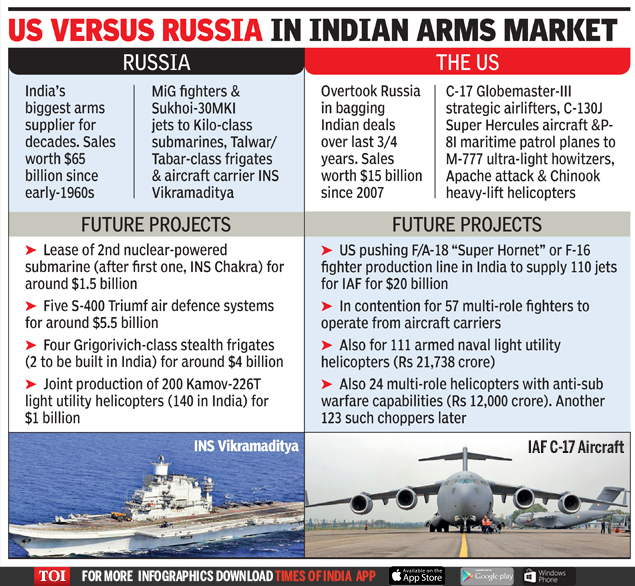 Sanctions on Iran is likely to affect India's strategic interests in the region. Developing the Chabahar Port and using it for trade with Afghanistan and Central Asia has long been New Delhi's way of by-passing Pakistan, which does not allow Indian goods to pass through its territory. From Chabahar, the existing Iranian road network links to Zaranj in Afghanistan, about 883km from the port. The Zaranj-Delaram road constructed by India in 2009 can give access to several major towns inside Afghanistan. However, with US sanctions expected to hit Iran hard, Chabahar's transition to a bustling trade and transport hub will remain unfulfilled for some more time. India also imports oil from Iran.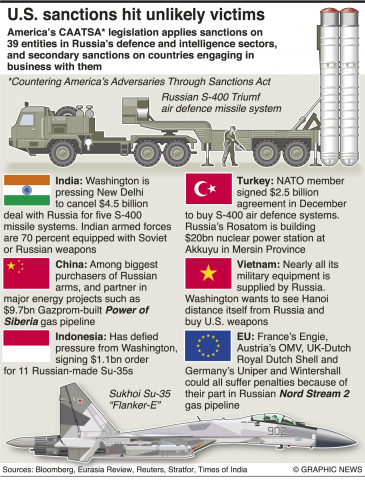 ---
WAIVERS-
The United States Senate Committee on Armed Services plans to exempt some US strategic allies; India, Indonesia and Vietnam from Countering America's Adversaries Through Sanctions Act (CAATSA) that allows the nations to buy Russian military equipment without any threat sanctions.
The Iran-related sanctions have already increased the oil import bill of India, the world's third largest crude importer, by driving up prices. India can import oil from Iran without any repurcussions till early November.
The "modified waiver authority", or amendment to Section 231 of CAATSA proposed by Congress, allows the President to waive sanctions in certain circumstances, for six months at a time, as long as he certifies that it is in the U.S.'s national security interests and does not "endanger" ongoing operations.
U.S. pressure on India, Indonesia and Vietnam, however, is unlikely to fully dissipate because no blanket waivers are being granted. Congress has mandated that each country demonstrate that it is significantly reducing dependence on Russian arms or significantly increasing cooperation with the U.S.
---
---
NOTE: 
For detailed discussion on the topic and to know its relevance in the Civil Services Examination, visit our YouTube channel using the link given below.